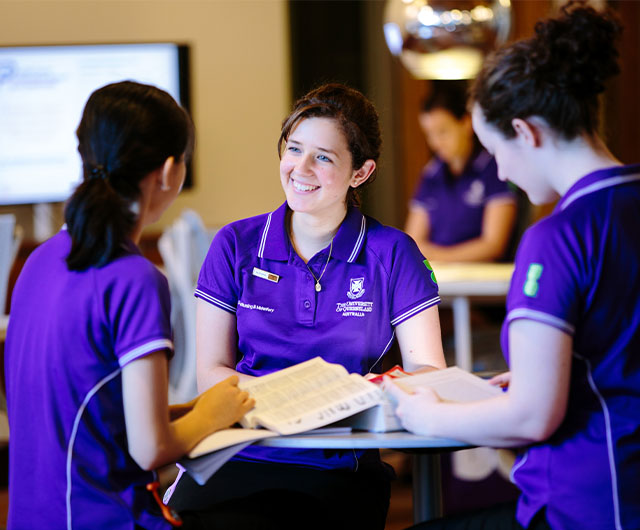 UQ's Centre for the Business and Economics of Health (CBEH) supervises students in multiple disciplines, including economics, pharmacy, nursing, and business. Our students are characterised by their commitment to finding new ways to think about improving health care systems – through advances in methods, policies, models of care, workforce design, and financing, among others.
CBEH provides students with development opportunities through Research Assistant roles on a variety of projects.
To express interest please complete the Business, Economics and Law Faculty Research assistant register registration form and nominate CBEH when prompted.
Team up with some of the University's leading academics and researchers to participate in research-related activities for a selected project. You'll have the opportunity to progress and apply your degree-specific knowledge, whilst developing valuable research and professional capabilities.
---
PhD opportunities
Meaningful Outcomes in Substance Use Treatment
The NHMRC Centre of Research Excellence on Meaningful Outcomes in Substance Use Treatment is looking for a health economics PhD candidate interested in making a meaningful contribution to improving the delivery of cost-effective care within alcohol and other drugs (AOD) sector. You will be supervised within UQ's Centre for the Business and Economics of Health (CBEH) and the School of Psychology.
Throughout your PhD project, you will work collaboratively with a team of leading national and international researchers to examine the cost effectiveness of varying AOD service types for different AOD presentations, including those with polydrug use and comorbid mental health conditions. There is also an opportunity to determine client and staff preferences for increasing the uptake of routine outcome measures and feedback in AOD services using a discrete choice experiment.
Desirable qualifications include an Honours or Masters degree in economics or econometrics and/or an undergraduate degree in economics or business, with post-graduate qualifications in a health- or business-related discipline.
Read more information and apply
Summer Research Projects
Research Experiences are coordinated by Student Enrichment and Employability Development (SEED) in conjunction with University of Queensland (UQ) research units and provide an opportunity for motivated UQ students to engage in an educational research activity.
We have one research project on offer for Summer 2023/24.
UQ provides access to world-class facilities and reputation, as well as development support for students.
CBEH researchers work across multidisciplinary projects and provide primary and associate supervision opportunities for master's and PhD student projects, meaning our students may be enrolled through the UQ school that is best aligned to their research focus.
Visit the Study at UQ website for full details of enrolment and opportunities available - information is available on postgraduate coursework and higher degree by research admissions.
PhD students supervised through the Centre have been recognised through numerous awards both within UQ and through external recognition. For example, current PhD student Aarushi Dhingra, supervised by Professor Brenda Gannon and Professor Luke Connelly, was awarded best paper at the 2021 Australian Health Economics Society conference, for her paper on Measuring Inequity in Less Utilised Health Services. Numerous PhD students have been awarded winners at the BEL Faculty 3 Minute Thesis (3MT) competition.
There are a number of scholarships available to postgraduate and HDR students that can assist you while completing studies with the Centre for the Business and Economics of Health.
As eligibility can be dependent on the school your program is associated with, students are encouraged to check which are available and to note the relevant eligibility requirements, closing dates and contact details.