ARC Training Centre for Innovation in Biomedical Imaging Technology
Duration:
January 2017
–
December 2023
Funding source:
ARC Industrial Transformation Research Program
Biomedical imaging has been one of the most important advances in the history of medicine. Capable of ascertaining the location, nature and extent of disease with high accuracy and sensitivity, it has become an integral part of modern health care. However, healthcare faces significant challenges, including tightening public sector budgets so it is important to balance biomedical imaging against its costs. This Training Centre aims to transform Australia's Medical Technologies and Pharmaceuticals industry, helping to unlock its great potential to lift the nation's prosperity. The Centre is based at the UQ Centre for Advanced Imaging and expects to train 20 industry-ready innovation scientists who will undertake industry-driven research to overcome bottlenecks in the development and application of novel diagnostics, therapeutics and theranostics (combined therapeutic and diagnostic agents) and to inform changes in regulatory policy that support industry growth. It builds multidisciplinary links between researchers at the University of Queensland and in the industry to develop "smart probes" and "smart scanning", harnessing the digital revolution for better, cost-effective diagnostic imaging and improved health outcomes.
Professor Stephen Birch contributes as a Chief Investigator for this Centre, providing strategic oversight and expertise to various projects on suitable approaches to assess the cost-effectiveness of diagnostic and therapeutic technologies.
Want to know more?
Project members
Our CBEH team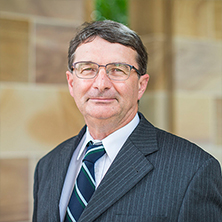 Taylor Chair and Centre Director
Centre for the Business and Economics of Health
Our collaborators
This is a multidisciplinary project with contributions from a number of UQ researchers. See the full list of partners.