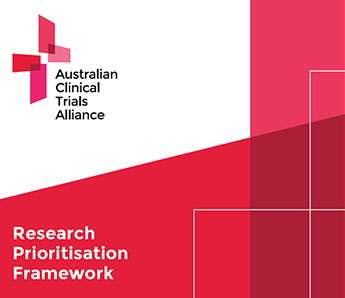 Associate Professor Haitham Tuffaha from CBEH has led the development of a research prioritisation framework for the Australian Clinical Trials Alliance (ACTA), the national peak body for clinical trial networks, coordinating centres and quality registries in Australia. The framework was launched last week in a national webinar presented by the co-leaders of ACTA Research Prioritisation Group A/Professor Haitham Tuffaha and Professor Rachael Morton.
Clinical trials are conducted in an environment of limited resources. With that in mind, it is important to ensure that resources are directed to trials that answer questions of importance to stakeholders, and that represent the best possible investment. The Framework is designed as a practical guide for Clinical Trial Networks and other organisations (e.g., Australian Government, funding organisations etc.) interested in setting priorities for the conduct of clinical trials. The Framework can be adapted and applied flexibly to a variety of activities, depending on the situation and objectives of the particular organisation.
ACTA has detailed information about the Framework and the supporting webinar.